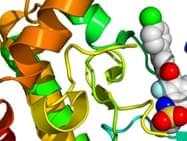 Creative BioMart offers a comprehensive collection of enzymes and enzyme inhibitors covering all the core biological/pharmacological research areas.
Enzymes, proteins that catalyze chemical reactions without being used in the reaction, are fundamental to all biological processes. Typically enzymes bind a substrate in a well confined binding pocket which stabilizes the intermediate state that the substrate has to assume during its conversion into the product of the enzymatic reaction. They are useful in various ways in different areas, such as diagnostics, industry and pharmaceutics, etc.
An enzyme inhibitor is a molecule, which binds to enzyme and subsequently stops a substrate from entering the active site of enzyme and/or hinders the enzyme from catalysis. Since blocking an enzyme activity can have profound effects on the downstream cellular events sometimes killing pathogens or regulating metabolic balance, many drugs are enzyme inhibitors. Therefore, their discovery and improvement is an active area of research in biochemistry and pharmacology.
Creative BioMart provides high quality enzymes and enzyme inhibitors to the research community of biology, clinical research, molecular diagnostics and biopharmaceutical drug development.